About Us

OUR STORY:
Bluebird Books is primarily an internet-based bookshop run by Eric Mayer in Littleton, on the south end of metropolitan Denver, Colorado. Bluebird is a one-man operation, but I rely greatly on my little poodle/schnauzer/who-knows-what mix, Cosmo. I adopted him in 2012...with his partial blindness and not-so-great hearing. Here's a pic of both of us: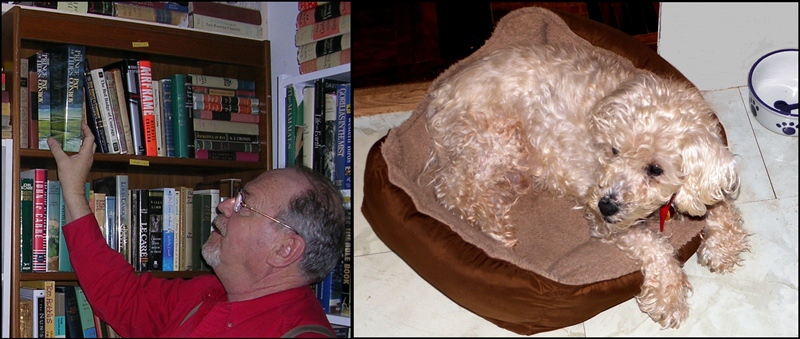 Cosmo isn't too great for cataloguing and packing books but he's terrific as a companion...so if you see "our" or "we" on our listings or on this website, Cosmo and myself are who I'm talking about.  I am not really equipped to sell retail, but will make arrangements to sell items face-to-face by appointment. I am always interested in buying your quality 

used 

books...be it just a few books or your entire collection. I will come to you in your Denver-area or Front Range location.


ERNESTO J. ("Ernie") TUBBS:
I mourn the loss 
of my beloved Shih-Tzu mix "Ernie" (named for the great Ernest Hemingway) who passed away in June of 2011...victim of an awful canine disease called IMHA (IMMUNE MEDIATED HEMOLYTIC ANEMIA).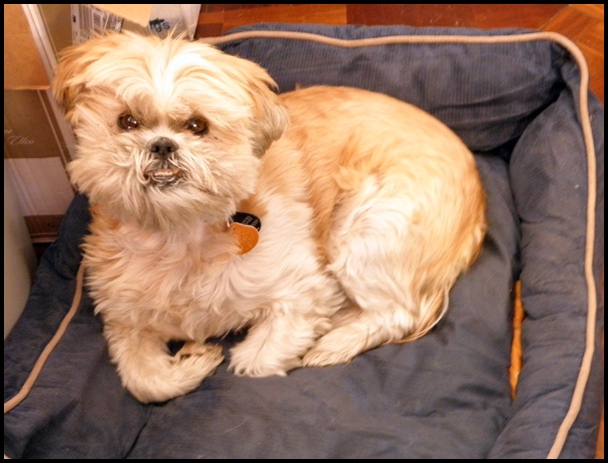 OUR PHILOSOPHY:
At Bluebird Books, we love books and we know you love them too. Our goal is for customers to be completely satisfied with their purchases. It is our intent to stock quality copies of quality works. We strive to accurately describe the items we are offering; and to make special note of discernible flaws.

SPECIALTIES:
Our specialties include Classic Fiction, Literature and Poetry; Books about Birds and Birding; Quality Cookbooks; Books by and about Abraham Lincoln and Winston Churchill; Baseball books; and any book that clarifies or glorifies the English language or the written word.  We feature works published by the Modern Library.

MEMBERSHIPS:
Bluebird Books is proud to be a member of IOBA (the Independent Online Booksellers Association) and RMABA (the Rocky Mountain Antiquarian Booksellers Association. Both promote the highest ethical standards in the sale of used and antiquarian books.


SHIPPING:
We ship our books promptly after receiving orders in well-wrapped, crush-resistant and moisture-resistant protective packaging. Our standard shipping rates are as follows:

FREE Economy US Shipping (for books weighing under 4 lbs.): via USPS Media Mail. Additional books, shipped together: No additional charge. If the item weighs more than four pounds, we will not charge any more than our cost to ship these items.

Priority US rate (for books weighing under 3 lbs.): $7.99 via Priority Mail; additional books at $3.00 each.

Non-U.S. Shipments: We are happy to ship internationally; the charges depend upon the book and the country. NOTE: On January 27, 2013 postal rates were dramatically raised for parcels going to international destinations from the USA. As a result, we have raised our shipping charges. HOWEVER, sometimes the actual shipping cost may be less (due to weight or other factors). When this occurs, Bluebird Books will refund the difference between the charged amount and our actual cost (if the difference is greater than one dollar).  If you aren't sure, please inquire and we will quote you a rate for international shipments.
Extra-Heavy International Items
: Shipping costs are based on an average weight of 2 lbs. (approx. 0.9 KG). Occasionally, we receive orders for extra-heavy books that require substantially more postage than normal. In such cases, we may ask for additional fees to cover these costs.
CONDITION:
We rate books and dust jackets on a scale from "As New" to "Poor", as follows:
AS NEW
 - Used when the book or dust jacket is in the same immaculate condition as when it was published, with no defects. 
FINE
 - Approaches the condition of AS NEW, but lacking the crispness of a new book. These books or dust jackets should have no defects.
NEAR FINE
 - Approaching "Fine" but with slight flaws.
VERY GOOD
 - Describes a book or dust jacket that does show some small signs of wear or slight damage.
GOOD
 - Describes the average used worn book or jacket that has all pages of text present but has flaws and/or damages. 
FAIR
 - Worn book or jacket that has complete text pages but is stained, has loose pages, tears, or otherwise has some sort of significant damage or other issue.
POOR
 - Describes a book that is worn, damaged, stained or otherwise beat-up (but complete), making it useful as a reading copy but possibly not a collector copy. A "POOR" dust jacket is likely heavily torn, chipped or otherwise damaged.
(A  ' + ' or a ' - ' can indicate a shading of these values...either a nudge up, or a nudge down.)

IMPORTANT: MOST BOOKS HAVE SOME SORT OF DEFECT, AND THESE SHOULD BE NOTED IN OUR DESCRIPTIONS.
WE BUY USED BOOKS IN DENVER:

Click 
here
 for more information. 
"Read the best books first, or you may not have a chance to read them at all."--Henry David Thoreau